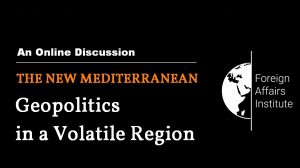 Foreign Affairs Institute organized the webinar The new Mediterranean: Geopolitics in a volatile region. The webinar featured as guest speakers Hany Farouk Ghoraba (Cairo, Egypt), a writer, political and counter-terrorism analyst at Al Ahram Weekly, author of Egypt's Arab Spring: The Long and Winding Road to Democracy, Senior Fellow at the Investigative Project on Terrorism (Washington D.C.) and a regular contributor to the BBC and Wolfgang Pusztai (Wien, Austria), security & policy analyst with a special focus on the MENA region, Chairman of the Advisory Board of the National Council on U.S.-Libya Relations, Senior Advisor of the Austrian Institute for European and Security Policy and Director of Perim Associates. The event was hosted by Dr. Ioannis E. Kotoulas, Adjunct Lecturer in Geopolitics (University of Athens) and Invited Lecturer (National Intelligence University).
The discussion can be watched by anyone, HERE: https://youtu.be/glGRpI7EAP8
Section 1 examined EEZ issues in the Mediterranean, the 2020 Greece-Egypt partial demarcation, the 2022 Egyptian decision to demarcate and the value of the diplomatic alliance between Greece, Cyprus, and Egypt.
Section 2 was an analytical presentation of the new strategic equilibrium in the Eastern Mediterranean, including such topics as energy security, the role of the EMGF, the rising influence of Egypt, the revisionism of Turkey and its influence in western Libya.
Section 3 dealt in detail with the situation in Libya and the security challenges the ongoing instability poses for the greater region.
Section 4 was an examination of the situation of Islamist organizations, including recent internal factions in the Muslim Brotherhood, its activity worldwide, as well as the presence of Islamist elements in Libya and the Sinai.
In their Concluding Remarks, all participants examined the Eastern Mediterranean as a focal geopolitical space in the context of the war in Ukraine and proposed steps to address revisionist attempts and to promote stability and regional cooperation in the Mediterranean._