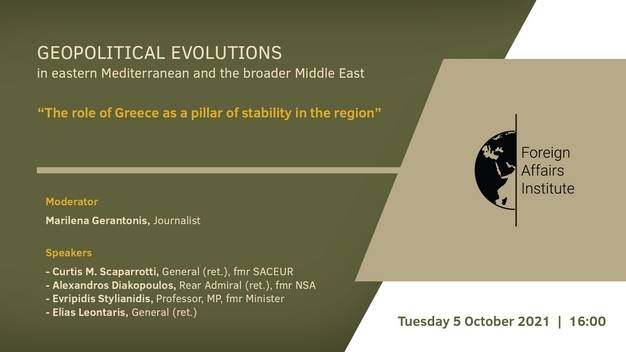 Foreign Affairs Institute has organized a nearly 2 hours online discussion on the geopolitical evolutions in eastern Mediterranean area and the broader Middle Eastern region. The focus was at the role of Greece as a pillar of stability in the region and also its role as a crucial western partner in alliances within the region.
The discussion was held between former SACEUR and commander of EUCOM Curtis Scaparrotti, Greek deputy minister of Defense, General (ret.) Alkiviadis Stefanis, former National Security Advisor (Adrmiral ret.) Alexandros Diakopoulos and former deputy minister of Foreign Affairs, Evripidis Stylianidis, currently member of the parliamentary committee on Foreign Affairs and Defense.
Moderator was Marilena Gerantoni, a journalist at the TV channel MEGA.
The discussion was held in English. The discussion can be watched HERE.