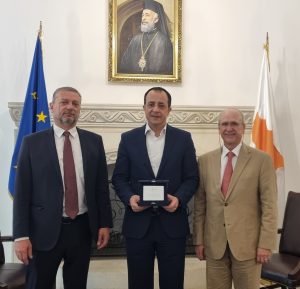 His Excellency the President of the Republic of Cyprus, Mr. Nikolaos Christodoulides, received in the Presidential Palace on Tusday 4th July 2023  Mr. Loukas G. Katsonis, Chairman and Dr. Theodoros J. Theodorou, Ambassador a.H, Senior Advisor of the Foreign Affairs Institute.
During our long-lasting  meeting (aprox. 45 min ) HE the President was informed about our activities and projects of the Institute  as well about all actions related to Cyprus, the MENA Region, the Balkans and Eastern Mediterranean  mainly focusing on the Euro-Atlantic strategy, energy supply, water and food safety.
The Chairman of the Steering Committee Mr. Loukas G. Katsonis presented to the President a Silver copy of the Institute's logo.