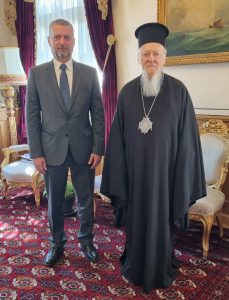 His Holiness the Ecumenical Patriarch Mr. Bartholomew accepted for hearing the chairman of the steering committee of the Institute of Foreign Affairs, Mr. Loukas Katsonis, and the Senior Advisor of the Institute, H.E. Ambassador Mr. Theodoros Theodorou, at the Patriarchal House, on May 14, 2022.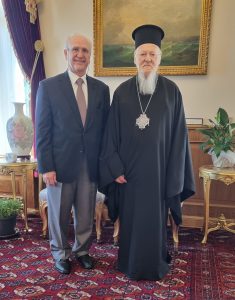 The purpose of the meeting was to thank His Holiness for His blessing and His remarks for the three Religious Diplomacy Conferences organized by the Institute, as well as to inform him about the next actions and strategic aspirations of the Foreign Affairs Institute.
The meeting lasted 35 minutes in total, during which, in addition to the above, were discussed the recent developments in Orthodoxy and the world.