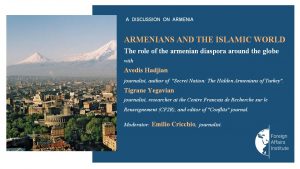 Foreign Affairs Institute organized a discussion on the relations between the Aermenians and the Islamic world but also the role of the armenian diaspora around the globe, on Tuesday, June 21, 2022.
The discussion was held between Avedis Hadjian, journalist and author  of the Secret Nation: The Hidden Armenians of Turkey, and  Tigrane Yégavian, journalist, researcher at the Centre français de recherche sur le renseignement (CF2R), and editor in Conflits journal.
Emilio Cricchio, Yerevan based British journalist was coordinating the discussion.
The discussion can be watched by anyone HERE.