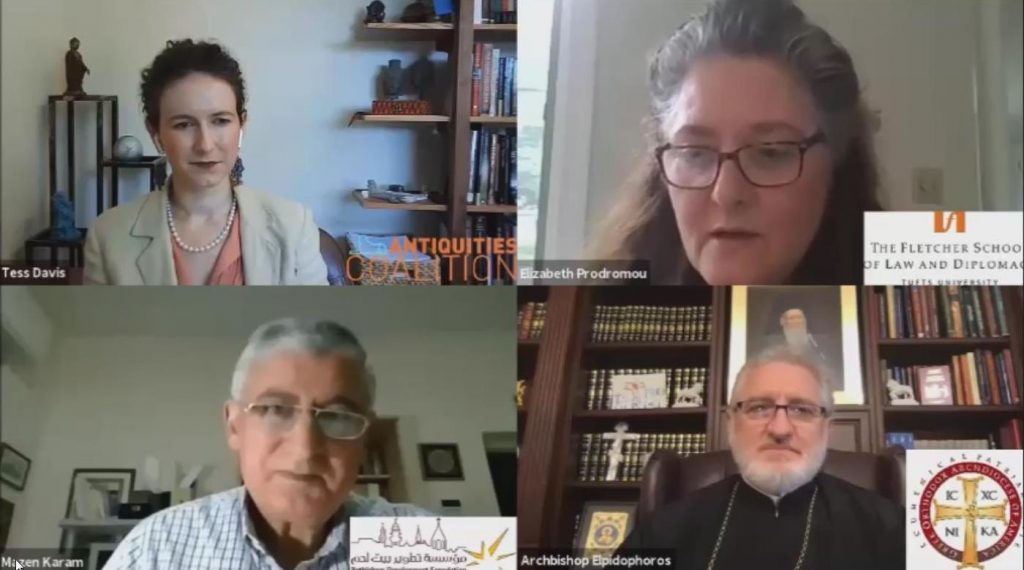 The Initiative on Religion, Law, and Diplomacy at The Fletcher School of Law and Diplomacy, Tuft University, and Foreign Affairs Institute, Greece, are organizing a series of conversation to explore the current conditions and contours of cultural heritage in crisis.  Framed within the context of the COVID-19 pandemic, the conversation series brings together cultural heritage experts, policymakers, practitioners, and influencers, to share knowledge, experiences, and recommendations about sustainable cultural heritage practices at a moment of great risk and a time of renewed possibility.
A note on concept:
The COVID-19 pandemic has generated a global conversation about the reality, fragility, and resiliency of an interconnected world.  A "wicked problem" that threatens human beings, disrupts biohabitats, and amplifies climate disruption, the public health pandemic has generated a profound awakening to the existential meanings of terms such as commonality, universality, integrity, and solidarity.
The devastating effects of the coronavirus crisis are also evidenced in spaces and practices that are less evident than what is presented on global media platforms and in local reportage—but with equal significance for human connection, compassion, inclusion, and memory.  Specifically, the COVID-19 crisis is exacerbating a crisis in the protection, preservation, and sustainability of cultural heritage, precisely at a moment in history when, as UNESCO's Director-General emphasized, cultural heritage is more invaluable than ever in ensuring that "everyone can stay in touch with the heritage and culture that connects them to their humanity." The response of states, multilateral organizations, faith communities, NGOs, and individuals the world over to the cultural heritage crisis offers an opportunity to ponder the deep trends and causal factors underlying the COVID-19 pandemic.  Likewise, reflection on solutions to cultural heritage in crisis presents an opportunity for the kind of multi-stakeholder, "glocal" collaborations that give pride of place to respect for history, diversity, equality, and accountability that will be indispensable to meeting the inevitable, forthcoming challenges of an existential nature and a planetary scope.
Program:
Panel #1: Why Does Cultural Heritage Matter for Humanity?
Bonnie Docherty, JD, Harvard Law School, International Human Rights Clinic
Marios Nottas, European Communication Institute
Moderator: Dr. Elizabeth H. Prodromou
Panel #2 Public: Private Partnerships, Social Impact Investing, and Cultural Heritage
Haris Siambanis, CEO, Benaki Museum
Cly Wallace Aramian, Culturelytics Pvt. Ltd.
Stefanos Valianatos, International Relations Director, Hellenic Foundation for Culture (HFC)
Moderator: Mr. Loukas Katsonis
Panel #3: Religious Cooperation and Cultural Heritage Sustainability
His Eminence Archbishop Elpidoforos (Lambriniadis) of America, Exarch of the Ecumenical Patriarchate of Constantinoplr and Archbishop of the Greek Orthodox Archdiocese of America
Mazen Karam, CEO Bethlehem Development Foundation
Tess Davies, Executive Director, Antiquities Coalition
Moderator: Dr. Elizabeth H. Prodromou
Panel #4: Cultural Heritage Protection and Diplomacy
Dimitri Triantafyllou, Professor of International Relations at the Kadir Has University in Constantinople (Istanbul), Turkey
Athanassios Dimopoulos, Rector of National and Kapodistrian University of Athens
Konstantinos Vlasis, Deputy Minister, Ministry of Foreign Affairs
Timothy Winter, Professor of Cultural Heritage Studies, University of Western Australia
Moderator: Mr. Loukas Katsonis
Panel #5: Exemplary Cases of Cultural Heritage Protection
Christina Maranci, Tufts University, Arthur H. Dadian and Ara Oztemel Professor of Armenian Art and Architecture, Department of History of Art & Architecture, Tufts University
Eric Williams, Curator of Religion, Smithsonian National Museum of African American History and Culture
Tonia Moropoulou, Professor on Material Sciences and Engineering, National Technical University of Athens
Moderator: Dr. Elizabeth H. Prodromou
The series invites a conversation involving students from The Fletcher School of Law and Diplomacy, Tufts University; National and Kapodistrian University, Greece; Harvard Law School; and, European Communication Institute
This series was made possible by the organizing committee of Dr. Elizabeth Prodromou, Mr. Loukas Katsonis, and the Very Reverend Dr. Aristarchos Grekas Clergy Archimandrite of the National and Kapodistrian University of Athens, Department of Theology.
Dr. Prodromou is the Faculty Director of the Initiative on Religion, Law, and the Diplomacy, at the Fletcher School of Law and Diplomacy. Mr. Loukas Katsonis is the President of the Foreign Affairs Institute in Greece. The Very Revd. Dr. Grekas is an Assistant Professor at the National and Kapodistrian University of Athens, Department of Theology.
The videos of these discusions as well as an intro video from Dr. Prodromou can be found in the Youtube channel of Foreign Affairs Institute.