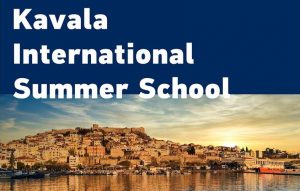 The 2nd International Summer School – Kavala International Summer School started on September 4, 2023 for the second consecutive year in Kavala, on the political and cultural importance of waters, domestic and international.
The summer school, which is hosted this year at the Kavala Great Club and will last until September 10, is conducted in English and is aimed mainly at college students, again is organized by the Foreign Affairs Institute (FAINST) in cooperation with the Friedrich Schiller University of Jena (Center for Reconciliation Studies, JCRS) and the American College of Thessaloniki (ACT).

The Kavala International Summer School combines academic theory and diplomatic practice to analyze policies and behaviors that encourage reconciliation, tolerance, social cohesion, and good neighborliness at local, national, and international levels, focusing on regional cooperation and development.
Participants take part in hands-on activities under the guidance of professors, researchers, and diplomats, and work on real cases alongside senior diplomats.
Anyone who wishes can watch the presentations and summer school proceedings live from the Institute's (FAINST) YouTube channel (accessible from www.fainst.eu).
The program of the 2nd International Summer School is as follows:
04.09.2023 Monday
10.30 Greetings: HE the Mayor of the City Mr. Theodoros Mouriadis
10.45 Greetings: Prof. Dr. Martin Leiner JCRS, Friedrich Schiller Universität, Jena-Germany
11.00 CEO FAINST Opening of the 2nd Kavala International Summer School
11.00-12.30 Keynote speaker.
Dr. Spyros Kouvelis, Former Deputy Minister of Foreign Affairs via teleconference
12.30-12.45 Coffee Break
12.50-14.00 Politics and New Technologies
Dr. Christos Aliprantis, adj Professor at the American College of Thessaloniki
14.00 Light Lunch
15.30-16.30 Prof Dr. Martin Leiner: Water and the three Abrahamic Religions
16.30- 17.30 First workshop
05.09.2023 Tuesday
10.30   "Global Flow Security" – a strategic concept for maritime routes and beyond?
Babis C. Karpouchtsis, Helmut Schmidt University/University of the Federal Armed Forces Hamburg
11.30 Coffee Break
12.00-13.20 Waters and Environmental Security, Dr. Christos Aliprantis
Q/A
13.30 Light Lunch
14.30-15.30 International Law of the Sea
Efthymios Papastavridis, via teleconference. Researcher and Part-time Lecturer, University of Oxford and Research Fellow;  Academy  of Athens and Athens PIL Center
15.45 Participants meeting, self organization
06.09.2023 Wednesday
10.30-11.30 Prof Dr. Maria Kyriakidou
Access to clean water and issues of gender inequality
11.30-12.00 coffee break
12.00 Meeting of participants
13.30 Light lunch
30 Μr. Antonis Platias
Waters and hybrid threats.
07.09.2023 Thursday
10.30 Prof. Dr. John Paravantis, via teleconference
Game theory and global politics
11.30 Coffee break
12.00 Meeting of participants
13.30 Light Lunch
14.45-16.00 Mr. Loukas Katsonis, CEO of the Foreign Affairs Institute
The meaning of UNCLOS for the welfare of nations.
16.00 Prof Dr. S. Tsani, via teleconference
The Legal Framework, International Economics, and Blue Development.
17.30 End of works
08.09.2023 Friday
10.30-11.30 Dr. Tina Mavrikos Adamou, adj. Prof. ACT
International migration at the Mediterranean Sea.
11.30  Four working tables: Exchanging views. Launching 2024 Program
13.30 Lunch "THE SUMMER SCHOOL PRIZE"
09.09.2023 Saturday
10.30-11.30   Mr. Ioannis Vichos, Vice President of the 'Hellenic Coastguard Officers' Union' (HCOU).
11.30 – 16.30 Cultural activities in Kavala
10.09.2023 Sunday
10.30 "The endless blue experience". Energy, fishery, tourism, environment, development. Human life, welfare, and environmental protection.
20.30 Farewell cocktail/light and casual