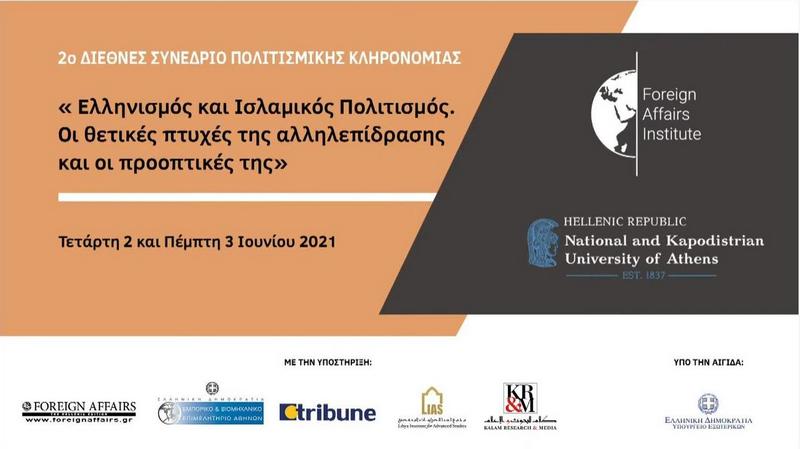 The Institute of Foreign Affairs, in collaboration with the National and Kapodistrian University of Athens (EKPA), is holding the 2nd International Conference on Cultural Heritage, in 2-3 June 2021.  This year's conference addresses "Hellenism and Islamic Culture: Positive Sources and Prospects for Interaction."
This timeliness of this topic lies in its coincidence with the 200th anniversary of the establishment of the modern Greek state, as well as with the renewed engagement engagement of Middle East states with Greece.
The conference brings together academics, diplomats, and officials, to explore both historical and contemporary features of the mutual, reflexive influences and sharing between Hellenism and Islamic culture in the Greater Middle East.
The conference can be seen on the following links:
For the first day: https://www.youtube.com/watch?v=aIFH45tHiV8
For the second day: https://www.youtube.com/watch?v=xC-jd06yPlQ
The program of the conference was as follows
June 2, 2020
16:00 Conference Launch. [Moderator: Loukas Katsonis]
– Introduction – Welcome Address, Loukas Katsonis, Chairman of Foreign Affairs Institute and publisher of the Foreign Affairs The Hellenic Edition magazine.
– Opening remarks, Minister of Foreign Affairs, Hon. Nikos Dendias.
– Opening remarks, Secretary General for Public Diplomacy and Greeks Abroad, MFA, Hon. Yiannis Chrysoulakis.
– Opening remarks, H.E. Sulaiman AL Mazroui, Ambassador of UΑΕ.
– Opening remarks, Rector University of Athens (ΕΚΠΑ), Professor Athanasios Dimopoulos.  
TOPICS
16:30
Dimitri Gutas, Keynote Speaker, Professor of Arabic and Graeco-Arabic, Yale: «The Survival of Scientific Hellenism in Islam».
Historical data in the broader Middle East. [Moderator: Mihalis Psylos, journalist]
Dr. Theodoros Mavrogiannis, Professor of Ancient History, University of Cyprus: «The Beginnings of the Interaction of Hellenism with the Arab world in the 1st, 2nd, and 3rd century A.C.»
Dr. Vlassis Agtzidis, Phd on History:« Relations between Hellenism and Islam ».   
CONVERSATION
18:30
The Period of the Ottoman Empire [Moderator: Giorgos Georgiadis, journalist ΕΤ3]
Dr. Flora Karagianni, Director of the European Center for Byzantine and Post-Byzantine Monuments, «Byzantium and the Arabs: Cultural interactions and Influences».
Vahit Tursun, Researcher, Author: «The contribution of the Pontic dialect to the spread of Islam in the East».
Dr. Eleni Kondyli, Professor of Arabology, National and Kapodistrian University of Athens, «Greek and Arab People in the Ottoman Empire».
Maria Georgopoulou, Gennadios Library, American School of Classical Studies: «Commercial Contacts, Artistic Exchanges. Painted Mansions in the Ottoman Balkans (18th century)».
DISCUSSION
June 3, 2020
16:00
Common Cultural Traditions. [moderator: Thanos Houpis, journalist, Voice of Greece, ΕRΑ]
Dr. Nikos Mihailidis, University of Missouri, St. Lewis: «Music and Politics».
Dr. Ali Chairman of the Libya Institute for Advanced Studies, Libyan president Candidate: «Invoking Greek Libya Cultural Heritage in Building a Joint Mediterranean Future»
Dr. Athina-Despoina Potari, Center of Hellenic Studies, Harvard University: «Common Aspects of Islam with the Neo-Platonic Tradition».
Dr. Mihalis Lefantzis, Architect, Ministry of Culture:  «The temple of "Kathisma" of the Holy Virgin and the Dome of the Rock at Jerusalem. Two emblematic architectural hybrids».
Dr. Manolis Varvounis, Professor Democritus University of Thrace: «Common Folklore Elements Between Christianity and Islam in the Wider Near East».
DISCUSSION
17:30
The Geopolitics of Culture in the Middle East (Α') [Moderator: Elizabeth Prodromou, Professor, The Fletcher School of Law and Diplomacy, Tufts University]
Amb. (Ret.) Theodoros Theodorou, former Ambassador, General Manager, MOHA (Mohammed Ali Research Center): «The Muslim Minority in Thrace. Cultural Asset for Geostrategy in Europe and MENA Region».
Nikos Androulakis, European Parliament MP, Vice president of the Committee on Foreign Affairs.
DISCUSSION
19:00
The Geopolitics of Culture in the Middle East (Β') [Moderator: Marilena Gherandoni, MEGA TV]
Organization
Aya Burweila, Ambassador and Special Envoy of the European Public Law Organization (EPLO) to Libya and North Africa: «The Role of Greek Muslims in Libyan History».
Dr. Aref al-Obeid, Director, Hellenic Institute of Cultural Diplomacy, Historian, professor International Relations
DISCUSSION
Closing: 20:30