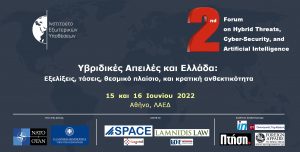 The two-day 2nd Forum on Hybrid Threats, Cyber-security, and Artificial Intelligence, on "Hybrid Threats and Greece: Developments, Trends, Institutional Framework", was successfully completed on June 16, 2022 at LAED (Rigillis 1, Athens). It was organized by the Foreign Affairs Institute (www.fainst.eu), under the auspices of NATO and the Greek Ministry of Foreign Affairs.
The Forum can be watched by anyone, for the first day HERE and the second one HERE .
42 Greek and foreign speakers of great prestige and influence participated In person and online, coming from the field of politics, academia, as well as high-ranking officials of NATO, the EU, the relevant Greek government agencies and agencies, foreign Ambassadors, but also representatives of companies and private sector bodies of great importance for the operation of critical infrastructure and the support of state operation and social and state resilience.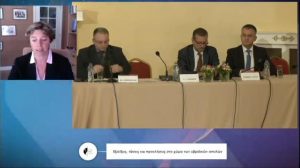 The purpose of the forum was to study modern methods of hostilities, in the light of the threats that are emerging today for Europe and in particular for Greece. How resilient is the country? What hybrid threats can it face, and how? What it needs to be done to strengthen Greece's resilience in order to diverse intrusions? These are some of the questions that were answered through the forum sessions.
For more information HERE.