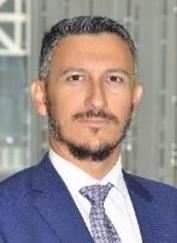 Dr. Koutsogiannis has been active in the defense and technology industries for several years, with significant experience in the international arena having worked and lived in the Middle East, Africa and Continental Europe, as well as with multinational organizations such as NATO and the EU.
He specializes in national defense programs in the field of helicopters, shipbuilding and modernization of surface units, radar, anti-missile defense and Cyber. He has also collaborated with several states, academic institutes and universities to enhance local academic and industrial activities.
He graduated from Strathclyde University in 2000 with a degree in Electrical Engineering. In 2003, he completed his PhD in Signal Processing, with a scholarship from the British Ministry of Defense. He has numerous publications and holds a patent for passive radars. He speaks English, French and Arabic. He has an aircraft pilot's license and he practices in acrobatic flights.